2019 2020 New Model Isuzu Dmax V-cross on Sale at Thailand's top Isuzu Dealer Exporter of Isuzu Dmax pick-up truck and Isuzu MU-7 SUV
By Jack Kates
The Isuzu D-Max V-Cross has been updated in Thailand, with the pick-up seeing improvements to its looks, equipment list and powertrain. The range-topping double-cab version of the D-Max competes against the likes of the Chevrolet Colorado High Country and Ford Ranger Wild Trak there.
Under the hood, the V-Cross retains the 3.0 litre 4JJ1-TCX four-cylinder turbodiesel, which develops 177 PS at 3,600 rpm and 380 Nm at 1,800 to 2,800 rpm. Unlike the facelifted D-Max 1.9 Ddi, the larger mill here doesn't get a six-speed manual, but retains its five-speed 'box. However, it does get a new six-speed automatic, as well as an efficiency-related idling start/stop system.
On the exterior, the Isuzu D-Max gets redesigned projector LED headlamps with LED DRLs similar to those found on its 1.9 Ddi brethren. Other new items include additional garnish elements on the bonnet and wheel arches, as well as a front bumper guard, cargo bed-liner and 18-inch six-spoke wheels.
As for the interior, the pick-up now comes with two-tone leather upholstery, new plastic trim, cruise control, two USB charging ports and a Kenwood entertainment system with navigation and the Isuzu Connect World app integrated into it.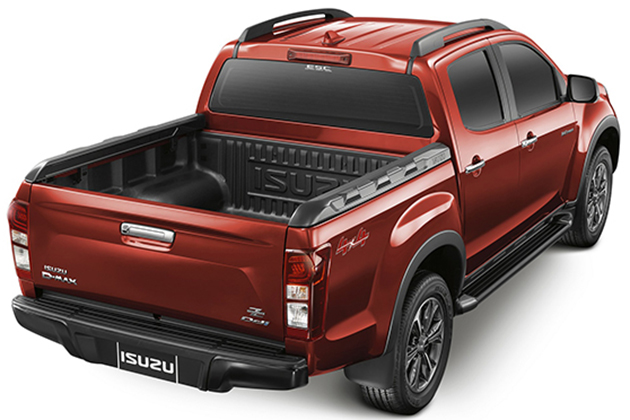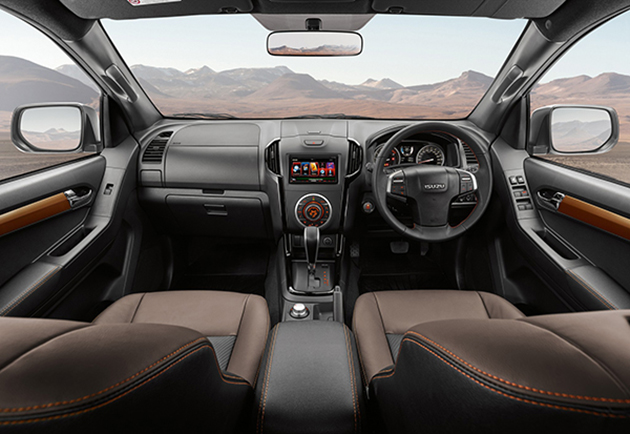 Also new for V-Cross variants fitted with the five-speed manual is the Genius Sport Shift feature, which is part of the car's multi-info display. The feature is already available on the D-Max 1.9 Ddi, indicating to the driver the pick-up's currently selected gear, and when to change up.
On top-spec variants, the safety kit is bolstered by the addition of hill-hold assist on top of ESC and traction control (not available on lower variants), along with standard items such as dual front SRS airbags and ABS with EBD and BA.
New 150 hp 1.9 Ddi Isuzu Dmax
The mid-life revision sees several visual updates to the pick-up truck, including the introduction of a new 1.9 litre Ddi Blue Power turbodiesel to its engine line-up.
At the front, the D-Max receives a more aggressive grille design, which is flanked by redesigned headlights with LED "tubes" and integrated LED daytime running lights. The front fascia also receives two new bumper designs depending on the variant chosen – V-Cross, Hi-Lander, and Spark.
Moving on to the rear where the changes are minor, the D-Max gets a restyled tailgate, which seems to adopt a slightly more angular design at its centre. Rounding up the list of other exterior changes are new stickers, 18-inch wheels, and a fin-style antenna.
The more significant update however, lies beneath the hood, with the new RZ4E-TC 1.9 litre Ddi Blue Power turbodiesel engine displacing the outgoing 4JK1-TCX 2.5 litre mill. Isuzu says the new engine is 16 hp more powerful and 30 Nm torquier than the outgoing engine, while being 20% lighter in weight
The four-cylinder turbodiesel produces 150 hp at 3,600 rpm and 350 Nm of torque between 1,800 and 2,600 rpm. It is also claimed to be 19% more fuel efficient while CO2 emission is rated at 161 g/km. Joining the 1.9 litre mill is the familiar 4JJ1-TCX 3.0-litre turbodiesel engine, which produces 177 hp and 380 Nm of torque, and remains on the top of the model range.
The Ford Ranger, one of the D-Max's rivals, is offered with two Duratorq engine options, a 2.2 and 3.2 litre unit that produces 157 hp/385 Nm and 197 hp/470 Nm respectively. Both engines can be paired to either a six-speed auto or manual gearbox.
Transmission options for the engines include a new six-speed automatic, which replaces the outgoing five-speed automatic, as well as a new six-speed manual gearbox (with Genius Sport Shift). However, it has yet to be revealed which engine and transmission pairings will be assigned to the relevant variants.
As for the interior, there are a few new features that include an eight-inch touchscreen infotainment system and a TFT display within the instrument cluster, not to be confused with full LCD meters. Beyond that, the D-Max's cabin and layout remains virtually unchanged from before, but with different upholstery depending on trim level.
Safety-wise, the D-Max gets dual frontal airbags and anti-lock brakes, with traction Control and electronic stability control (ESC) reserved for higher variants. Customers in Thailand can also specify their new D-Max with several optional accessories that include side steps, roof rails, bed liner, cargo net, headlamp covers, a "tailgate ornament set", "premium" floor mats, and a tyre pressure monitoring system.
Isuzu Dmax on Sale
Euro 5 Isuzu Dmax 2019 2020 New model is now on sale at discounted price at Thailand's top pick-up Truck, car and SUV dealer and top Isuzu Dmax dealer and exporter Jim Autos Thailand. Our Australian, Dubai and UK Divisions can also provide new and used Dmax from respective countries.
2019 2020 Isuzu Dmax is a combination of American ingenuity and Japanese engineering genius. Like all previous models, 2012 Isuzu Dmax shares its ladder chassis platform, body construction, mechanical components and interior design (dash, centre stack, steering wheel and doors) with the upcoming 2013 North American Chevrolet Colorado. From A-pillar on back Isuzu Dmax appears to be a clone of Chevy Colorado but gets its own visual identity due to an aggressive angular front fascia with upswept headlights and a more conventional grille design.
Isuzu Dmax uses Isuzu's own engine and drivetrain. Isuzu's iTEQ engine has been retained but has been tuned up. 2500 cc engine now comes in two configurations; normal turbo 87kW power with 280Nm of torque and 101kW of power and VGS Turbo with 320Nm of torque. If you want more power you can opt for four-cylinder 3000 cc 4JJ1-TC iTEQ common-rail diesel engine with VGS Turbo which now has the power of 132kW with 380Nm of torque. Engines performance have been upgraded with Variable geometry turbocharger (VGS Turbo) and Isuzu Dmax's engines pass Euro V emission standard. 2012 Dmax still comes with 5-speed manual but has unvelied new 5-speed "Rev-Tronic" automatic transmission with sport mode (2011 model had 4 speed automatic transmission). 4×4 models have been renamed from "Rodeo" to "V-Cross", and transfer case has been renamed from "Touch-on-the-fly" button to new "Terrain command" system that uses spin system to allow for seamless changing of drive modes from 4-Whell to 3-Wheel Drive mode. Isuzu front suspension made up of independent double wishbone with coil-spring setup and a rear suspension made up of over slung leaf-springs installed above a special long span rear axle make for a comfortable driving experience.
Isuzu new rugged ladder-frame chassis platform dubbed "i-GRIP" (Isuzu Gravity Responsive Intelligent Platform) underpinning the new D-Max makes 42% stronger than its predecessors leading to improved ride and handling. The frame includes improved cross bracing at the rear, improving stability under loads and while towing, while also "ensuring long-term durability when used regularly in harsh environments". Longer wheelbase of 3095mm – 45mm longer than before – is now standard on all three body styles. This is good news for double cab users as rear riders not only get more leg space but also more comfortable seats.
D-Max would continue to be offered in all three body styles: Single Cab, Space Cab and Crew Cab. Customers will also continue to have a choice of rear-wheel drive 2WD  and four-wheel drive 4WD models. Space Extra Cab has laterally opening door to give easier access to the rear seat. Isuzu D-Max has an advanced safety package, with features including high-tensile stell, electronic stability control ESC, traction control (TCS), ABS, emergency brake assist, a number of airbags and electronic brake distribution EBD. EBD detects the payload weight and modulates the rear braking force to compensate. .In ESC fitted models ABS now goes to 4-channel 4-sensor type in stead of the current 3-channel 4-sensor.
The D-Max gets more storage spaces. Isuzu Entertainment System includes eight speaker comprising two large 6 x 9 inch front speakers and a roof-mounted Exciter speaker sound system replete with surround sound in the newly designed dash along with 'iGENIE' navigation system which include support for real-time traffic reports, and is equipped with standard Bluetooth and portable music player connectivity. It also comes with comfortable Flex-Ride suspension system; 2-DIN audio-video head unit with navigation-ready system; projector-type headlamps that provide 14% more illumination than their ordinary counterparts; side-impact steel beams; and rear camera and sensor.
Isuzu has combined ultra-aerodynamic technology normally utilized by Japanese bullet trains with state-of-the-art aerospace technology called Isuzu Insight.
Isuzu Dmax 2012 boasts not only the same aerodynamic design as the Japanese Bullet train but also incorporates the airplane technology of "Isuzu Insight" which allows for the recording and analysis of daily driving behavior in detail for the driver to improve safety in driving and maximize fuel efficiency performance in actual driving conditions. Isuzu Dmax was tested in world's best air tunnel at Pininfarina, Italy the same place where sport cars and Japanese bullet trains are tested.; Also with rear accessible laterally opening door in Extra Space Cab models, are new convenience equipment for all-new D-Max. 2012 Dmax; Rear-view camera is bolstered with "Parking lane guide" for safer parking ; front-view camera are also available as optional equipment. Dmax is available in 4 models line-up, 3 body type, 3 drivetrain ; 2WD, High-ride 4×2 (Hi-Lander) or 4×4 (V-Cross) in Single cab (Spark), Space Cab and Crew Cab (Cab4) [Spark Single Cab is available only in 4×2 drivetrain].
Interior design is the same as all-new Chevrolet Colorado, but uses its own upholstery, standard 4×2 models come with beige cloth interior, while Hi-Lander Z models come with black cloth interior, and Z-Prestige models come with Brown interior ; 2.5-liter models come with cloth, 3-liter models come with leather, the meter are real changing, with added of multi-information display with support of Thai language menu operation, 2DIN CD player with Bluetooth and USB connection support or Kenwood DVD system, Audio switch control, Driver power seat, Rear foldable seat (in Crew Cab models), also with over 10 position of intelligent storage space e.g. under steering wheel, over center console, 10-position cup holders
Available in 4 models line-up, 3 body type, 3 drivetrain ; 2WD, High-ride 4×2 (Hi-Lander) or 4×4 (V-Cross) in Single cab (Spark), Space Cab and Crew Cab (Cab4) [Spark available only in 4×2 drivetrain]
Models line-up are : S, L, Z and Z "Prestige" that are top models
The D-Max (and its sister Chevy Colorado) now has rear access panels (laterally opening door) for the extra-cab variant. This leaves the Mitsubishi Triton the only model to not have such a practical feature. As for the double-cab, the D-Max now has more comfortable rear seats, as well as more legroom space.
Isuzu claims that its new "i-Grip" platform accommodates a body that's 42% stiffer than before to help improve handling and ride.
But the design details of the D-Max and Colorado are obviously different like the front/rear lights and grille and bumper up front.
Exterior & interior highlights
Modern and sleek exterior lines compliment the new bulkier and aggressive on-road stance. The larger exterior dimensions afford a considerable increase in interior space raising occupant comfort levels and improving the rear seat access in crew and space cab models.
Inside, the two also share the same basic fascia and other interior panels. But the D-Max gets differently styled panel dials and an instrument cluster on the centre console housing functions for the audio and air-con.
Note the "dual-cockpit" design of the fascia which draws inspiration from Chevrolet's cars like the Cruze C-segment saloon.
A stylish and contemporary dash compliments the interior design. Functional upgrades include increased stowage areas. A new audio system features portable music player connectivity and Bluetooth®.
Focus on safety
With a growing importance on occupant safety, the new D-MAX has focused in this area as a top priority.
New side airbags that deploy from the side bolster of the front bucket seats protect the driver and passenger thorax region from side impact forces. Also featured are side curtain airbags to further protect occupants in these situations. A front driver and passenger system complete the array of airbags offered as standard.
Isuzu is highlighting safety and convenience features. For example, the D-Max now boasts a high level of active safety like anti-lock brakes, brake assist, traction control and vehicle stability system. The luxurious gimmick is an 8-speaker audio with surround sound.
As with most other pick-up brands, Isuzu sees a growing demand for the high-riding 2WD with automatic gearbox, due to its fashionable elevated body that also has a functional role in battling the notorious flooding conditions in the country. The 4WD double-cab variant is still being offered on top of the range.
Toyota Hilux Vigo and Mitsubishi L200 Triton already come equipped with Variable Geometric Turbo VGT for optimal performance and maximum fuel-efficiency. Isuzu has finally caught up with the two giants and the 2012 Isuzu D-Max now comes equipped with VGT / Variable Geometric Turbo.
Chassis Development
A newly developed ladder frame chassis in the D-MAX builds on the engineering successes of the class leading platform. It features a stiffer design with improved cross bracing at the rear, further improving stability while both loaded and while towing. It also ensures long term durability when used regularly in harsh environments.
"i-GRIP PLATFORM" (ISUZU GRAVITY RESPONSE INTELLIGENT PLATFORM) achieves excellent vehicle stability because of an extended wheelbase, wheel tracks and optimal engine installation just behind the front wheels which allows for optimal weight distribution location. Improved strength and rigidity with a larger chassis when compared to pickups of the same class which is proven by the fact that is stronger by 42%. All-new suspension setup with independent double wish-bone with coil springs up front while the rear suspension consists of long span leaf-springs resulting in excellent road grip and vehicle stability under every road condition with or without loading the vehicle, and of course a smooth and comfortable ride at every speed level…reach for the future of motoring that the world has been waiting for, a new level of driving experience unique only to Isuzu.
An increased length wheel base from the current pick-up truck (bakkie or ute) body's 3050mm to 3095mm is now standard across the entire vehicle lineup.
Electronic Stability Control is also now fitted as standard.
The new Emergency Brake Assist and Anti-lock Brake System are designed to detect an emergency braking situation during hard application of the brakes. These systems work in unison to slow the vehicle without locking up the wheels and aiding stability. Electronic Brake Distribution further assists by detecting the payload weight and modulating the rear breaking force to compensate.
2012 Isuzu Dmax Engine
Chevy Colorado and Isuzu Max now have different engines. The 2012 Isuzu D-Max uses carried-over diesel-turbo engines albeit tweaked to Euro 5 emission standards with higher outputs and new-generation common-rail fuel-injection including the 116hp/280Nm 2.5 and VGS versions of the 136hp/320Nm 2.5 and 177hp/380Nm 3.0. One of the biggest asset of this engine is the introduction of the "Isuzu Insight" which will detect and analyze the vehicle behavior and driver's driving habit, to be more safer and more fuel efficient.
While a five-speed manual is still on offer for traditionalists, the automatic transmission now comes with five-forward ratios to match the Mitsubishi Triton and Nissan Navara. Isuzu's arch-rival, the Toyota Hilux Vigo Champ, still sticks with four gears in the automatic version.
For the 2012 Chevrolet Chevy Colorado, there will be a 2.5-litre diesel-turbo called Duramax and a bigger 2.8-litre variant for those needing more power and torque.
Power and torque have both been improved through the technological refinement of Isuzu's well renowned 3.0L diesel power-plant. The upgraded inline 4-cylinder diesel delivers a peak torque output of 380Nm and peak power output of 130kW. The torque is delivered across a flat curve through a large majority of the rev-range to aid drivability and make ease of towing.
As expected from an Isuzu diesel, it delivers outstanding fuel economy even with the increased power and torque outputs.
An all new automatic transmission offers a refined shift map through 5 speeds. This joins the 5-speed manual in the range.